[ad_1]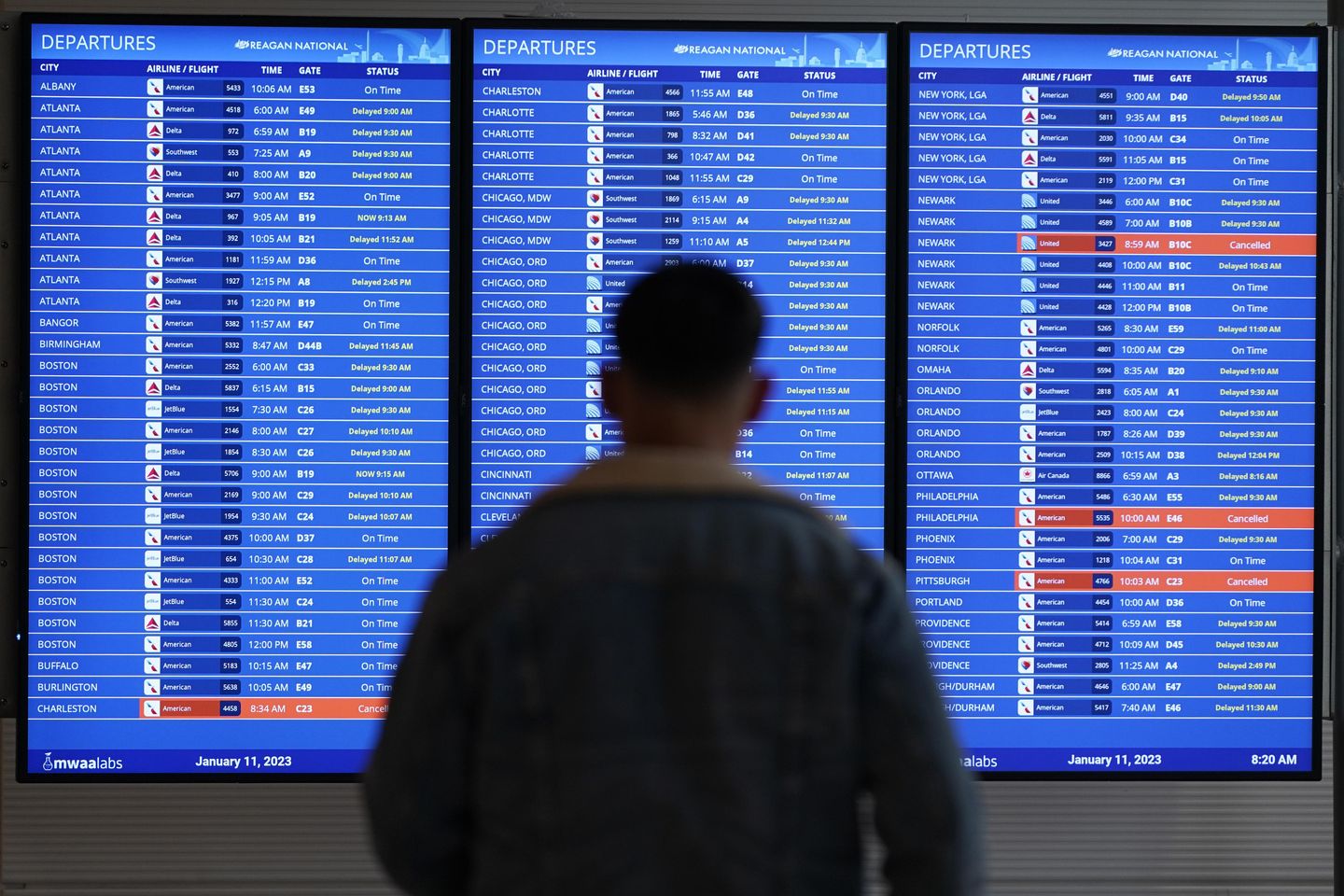 Airlines are crowing about early summer bookings returning to pre-pandemic levels, but the federal government is blaming them for delays and cancellations that airline analysts say are poised to ground passengers again.
Over the past two years, airlines have scheduled fewer flights and filled larger planes with more passengers, thousands of whom have found themselves stranded in airports during holidays like Memorial Day, Independence Day and Christmas.
"Demand is expected to be very high this summer and it is the airlines' responsibility to service the tickets that they sell," the Department of Transportation said Monday in a statement to The Washington Times. "[The agency] will be keeping a close eye on airlines scheduling and their customer service."
With fares running as much as 30% higher than last year, Delta Air Lines has reported a record number of advance summer bookings. American Airlines and Southwest Airlines — whose pilots' unions voted Monday to authorize a strike for better pay and working conditions as they cover staffing shortages — also have noted strong sales for the summer, the busiest season for flights.
Transportation Secretary Pete Buttigieg and air carriers have pointed fingers at each other over delays and cancellations. The airlines have blamed bad weather and a shortage of federal air traffic controllers, but the government says carriers have created the problem by pinching pennies.
On Friday, a report from the Government Accountability Office blamed airlines for at least 60% of cancellations from October through December 2021 — higher than any similar period in 2018 or 2019 — due to avoidable problems like maintenance issues and flight crew shortages.
Cancellations in the last six months of 2021 outpaced 2018 and 2019 rates despite 14% fewer scheduled flights, the GAO found in an analysis of Transportation Department data.
The Republican-led House Transportation Committee commissioned the GAO report, which analyzed flight data from January 2018 through last month. It found that airlines are taking more time to recover from storms than before the pandemic, with delays in 2021 and early 2022 lasting longer than before pandemic restrictions shuttered the nation's airports in March 2020.
During pandemic restrictions, airlines received $54 billion in federal relief to keep employees on their payrolls but chose to reduce airport staff by paying them incentives to retire or quit. When travel restrictions were lifted early in 2021, airlines struggled to meet the sudden rebound in demand.
Most of the flight interruptions in the GAO report occurred at budget airlines trying to avoid raising ticket prices, but several larger carriers had issues too.
Now the airlines have more workers than before the pandemic, and cancellations have occurred at a lower rate this year than during the first few months of 2019, according to the latest data from tracking website FlightAware.
The problem continued into last year: From June to Labor Day, the industry canceled more than 44,000 flights.
Most airlines did not respond Monday to a request for comment. A Southwest spokesperson said the Dallas-based carrier is "dedicated to operational reliability" and has been one of the top carriers in "on-time performance" this year.
Responding to the GAO report, the trade group Airlines for America said most cancellations this year have occurred due to severe weather and problems with air traffic control.
Meanwhile, the Federal Aviation Administration announced Monday that 169 new routes along the heavily trafficked Eastern Seaboard, saying it has asked airlines to reduce summer flights in the New York region.
The new routes create more flexibility to reschedule flights in bad weather and will reduce travel time along the coast by 40,000 miles and 6,000 minutes annually, the FAA said.
"These significant improvements to our national airspace system are just in time for summer and will help travelers get to their destinations more efficiently," said Tim Arel, the chief operating officer of the FAA's Air Traffic Organization.
But airline analysts say it's shaping up to be another ugly summer for air travel.
Helane Becker, an airlines analyst and managing director at Cowen Financial Services, said airports will face bigger crowds this summer even as they struggle to handle bad weather, recurring staff absences and air traffic control problems.
"Bring your patience and travel early in the day," Ms. Becker said in an email.
She noted that the FAA asked the four airlines serving the New York region — JetBlue, American, Delta and United — to reduce their travel schedules by 10% because the New York air traffic control tower remains 54% understaffed.
"This is a sign that the government did not do its job training controllers. In fact, the government admitted to not training air traffic controllers for 18 months during the pandemic," she said.
Robert W. Mann, an independent airline analyst and consultant in Port Washington, New York, said passengers can expect "higher average fares, fuller flights and fewer options for interrupted trips" this summer.
"The usual 'summer of discontent' will be true to form, and may exceed expectations due to pervasive high energy weather events adversely impacting delay and cancellation rates," Mr. Mann, a former American Airlines executive, told The Times.


[ad_2]

Source link