[ad_1]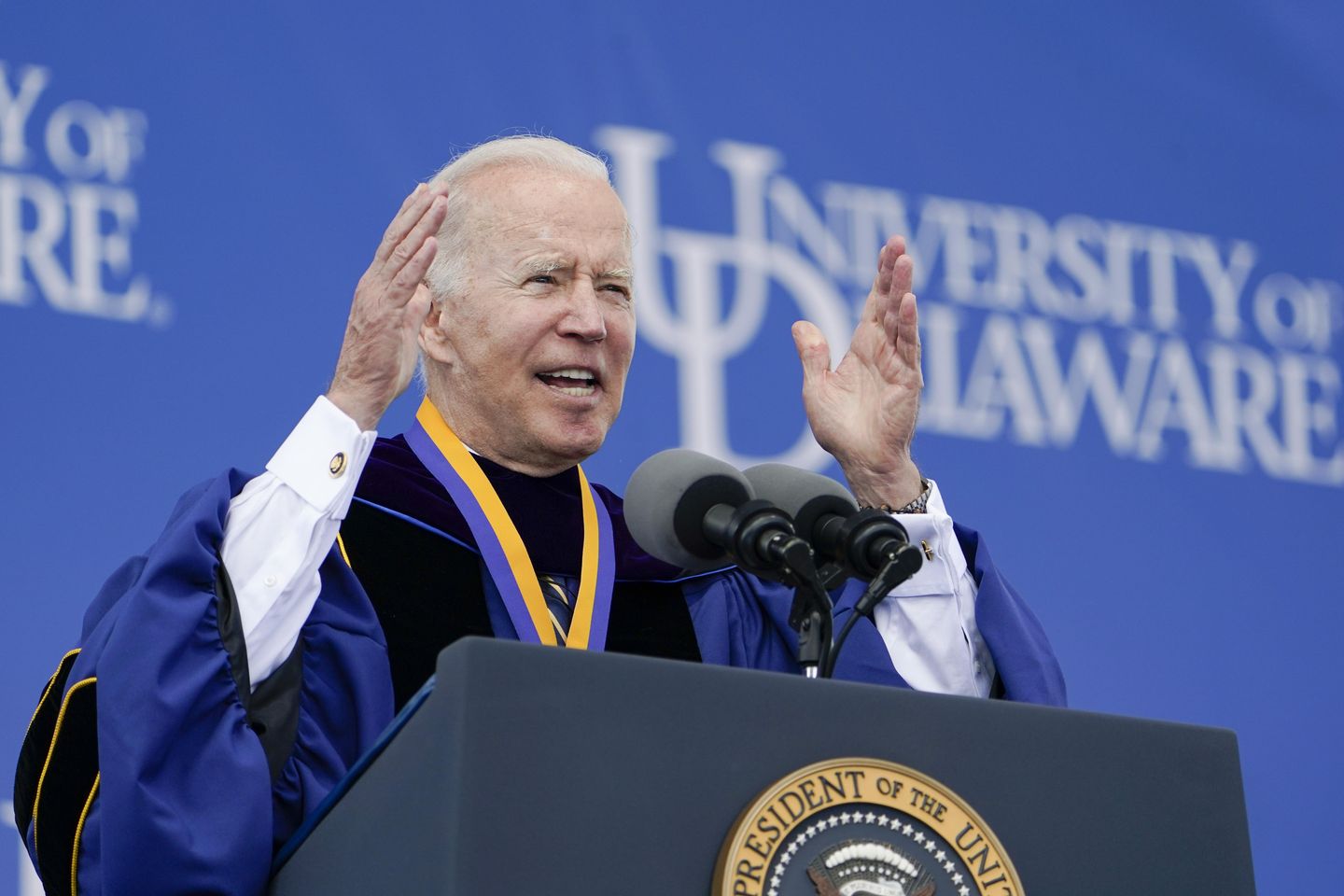 Conservative speakers, already a rarity on college campuses in recent years, may be even more of an anomaly this spring as the nation's universities hold commencement ceremonies featuring an array of educators, entertainers and politicians drawn from the left — and essentially devoid of anyone from the right.
Whether you're a respected scholar, a Supreme Court justice or even a former president, the message from the country's colleges — big or small, public or private — is clear: No conservatives allowed.
Supreme Court Justice Clarence Thomas spoke at the University of Georgia in 2007 and former Republican President George W. Bush at Southern Methodist University in 2015. In the years since, they have been relegated to small conservative and private Christian colleges.
Former Secretary of Education William Bennett — a one-time associate dean of liberal arts at Boston University who holds a PhD in political philosophy — says he received 33 honorary degrees at commencements before serving under Republican President Ronald Reagan from 1985 to 1988.
Since then, he has spoken at only two small conservative colleges, and he says two other schools — the University of the Pacific and the University of Wyoming — blocked him from speaking due to faculty pushback.
"As soon as I was marked with Reagan, those invitations to speak at commencements and receive honorary degrees dried up," Mr. Bennett told The Washington Times. "It's liberal bias. And now President Biden associates all conservatives with MAGA extremists."
None of the nation's eight Ivy League universities — Harvard, Princeton, Yale, Columbia, Pennsylvania, Cornell, Brown and Dartmouth — have invited conservative speakers to address their graduates in upcoming weeks.
But some are featuring Democrats and Democratic Party allies.
"Our colleges and universities do many things well. But one thing they do not do is effectively expose students to different points of view," said Jonathan Zimmerman, a professor in the history of education at the University of Pennsylvania. "If they took that charge seriously, they would invite graduation speakers who challenged the dominant views on campus instead of echoing them."
Idina Menzel, the star of Disney's "Frozen" and a vocal critic of former Republican President Donald Trump, will be Pennsylvania's speaker on May 15.
Oscar-winning actor Tom Hanks, a longtime Democrat supporter who lobbied for the election of former Democratic President Barack Obama, will speak at Harvard on May 25.
Yale University will feature 1984 alumna Elizabeth Alexander, a friend of the Obamas who recited a poem at the former president's first inauguration in 2009.
Princeton will showcase an address from Rep. Terri Sewell, Alabama Democrat and a 1986 alumna.
While some of President Biden's Cabinet spoke at graduations last year, no members of former President Trump's Cabinet received Ivy League invitations during his term and were shut out of large school ceremonies.
Betsy DeVos spoke in May 2018 at Ave Maria University, a small Catholic school in Florida, while Ohio State and Rutgers invited former President Obama rather than then-President Trump in 2019.
The University of Notre Dame broke a 56-year tradition by not inviting the newly-inaugurated Mr. Trump to speak in 2016. In 2021, President Biden cited a scheduling conflict to decline the Catholic school's invitation amid planned protests over his abortion policies.
Robert A. Heineman, a retired political scientist at Alfred University in New York, said schools are eager to avoid controversy at graduations.
"The faculty and administration of higher education clearly possess a heavily liberal bias, but the trend away from conservative commencement speakers is probably more the result of attempts to avoid disruptions during this important event for students and parents rather than from ideological bias," Mr. Heineman said.
Other left-leaning speakers this year include Sen. Ben Cardin, a Maryland Democrat who will address Washington College in his home state on May 21, and Sen. Rafael Warnock, a Georgia Democrat who will address Bard College in New York on May 27.
Rep. Maxwell Frost, Florida Democrat, will speak at the University of the District of Columbia on May 13.
This year, conservatives will again be limited to small Christian and conservative-leaning schools.
Harvard economist Arthur Brooks, former head of the conservative American Enterprise Institute, will speak at the Catholic University of America in the nation's capital on May 15.
Attorney Leonard Leo, a co-chairman of the conservative Federalist Society and former judicial advisor to President Trump, is speaking on May 13 at Benedictine College, a Catholic liberal arts school in Kansas.
Virginia Gov. Glenn Youngkin, a Republican, will address George Mason University graduates on May 18 in his home state — a bigger stage that has sparked student protests and an unsuccessful petition to cancel the invitation.
According to higher education watchers, the fact that most undergraduate students and faculty are politically liberal explains the one-sided pushback against conservatives. They point to years of research suggesting conservatives are a permanent minority on campuses.
According to an Oct. 27 poll from the Institute of Politics at the Harvard Kennedy School, 57% of 18-to-29-year-olds said they preferred a Democratic Party candidate heading into the last midterm elections. By comparison, just 31% wanted a Republican and 12% were undecided.
In a Feb. 13 survey of 1,000 current college students, Intelligent.com found that 77% said they had heard professors expressing liberal opinions in class, compared to 42% who had heard faculty members share a conservative view.
Those numbers help explain why few conservatives get invited to address departing graduates, said Melanie Collette, a Newsmax financial analyst and former adjunct business professor at Rowan University in New Jersey.
"Liberal students and an often biased faculty have made conservative voices impossible at many colleges today," said Ms. Collette, a member of the National Center for Public Policy Research's Project 21, a network of Black conservatives.
Meanwhile, the remaining Ivy League schools have scheduled non-political speakers.
Dartmouth will highlight Phil Lord and Chris Miller, two friends from the class of 1997 who have since worked together as a Hollywood writing-directing team on films ranging from "The Lego Movie" to the 2012 adaptation of television's "21 Jump Street."
Columbia's graduation speaker will be playwright Katori Hall, a 2003 alumna who graduated with a B.A. in African-American Studies and Creative Writing.
In keeping with their respective traditions, Cornell's speaker will be university president Martha E. Pollack and Brown will feature student speakers.
According to a study from Young America's Foundation, only three conservative speakers received invitations last year to give a graduation speech at any of the top 100 colleges ranked by U.S. News & World Report: Virginia's Gov. Youngkin, former NFL quarterback Tim Tebow, and Prime Minister Kyriakos Mitsotakis of Greece.
The conservative campus advocacy group said 53 outspoken liberals — including President Biden, actor Kal Penn, singer Taylor Swift and journalist Bob Woodward — gave commencement speeches at top colleges in 2022.
Conservatives are too risky to invite for administrators who hope to become college presidents one day, noted Robert Weissberg, a retired political science professor at the University of Illinois.
"The threat of disruption can only bring bad publicity," Mr. Weissberg said. "Who would hire a top administrator as president who could not control the students? And the students know this."


[ad_2]

Source link