[ad_1]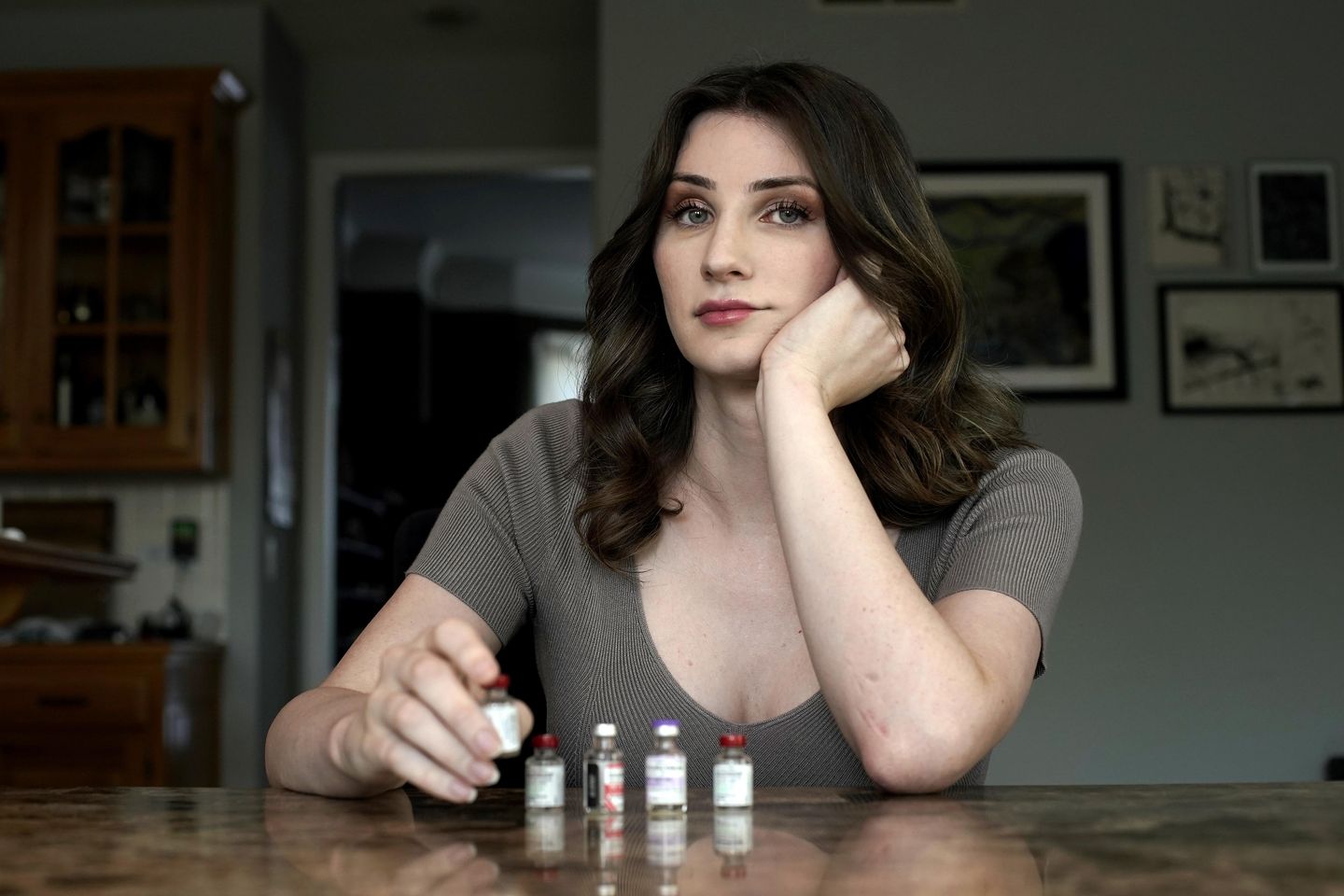 JEFFERSON CITY, Mo. — With her insurance about to run out and Republicans in her home state of Missouri ramping up rhetoric against gender-affirming health care, Erin Stille nervously visited a foreign pharmaceutical site as a "last resort" to ensure she could continue getting the hormones she needs.
Stille, 26, sent a $300 bank transfer to a Taiwan-based supplier for a 6-month supply of estrogen patches and androgen-blocking pills. For three weeks she feared she'd been scammed but breathed a sigh of relief when a large package arrived at her home in St. Peters.
"It's definitely a little scary," Stille said. "Taking a chance like this, I could have my money stolen and there's not much I can do about it. But I figured, at this point, that the benefits outweigh the risks."
Stille, and others nationwide, are scrambling to form contingency plans as Republican politicians rapidly erode access to the gender-affirming treatments many credit as life-saving.
Fears became even more pronounced in Missouri this month after Republican Attorney General Andrew Bailey issued a first-of-its-kind emergency rule that places strict restrictions on that care for minors – and adults.
While some doctors say self-medicating trans health care is dangerous, Stille is among a growing population who say they see no other option.
---
PHOTOS: DIY trans care evades barriers in Missouri, other states
---
If enacted, the Missouri rule will require people to have experienced an "intense pattern" of documented gender dysphoria for three years and to have received at least 15 hourly sessions with a therapist over 18 months or more before receiving puberty blockers, hormones, surgery or other treatment.
Patients also must first be screened for autism and "social media addiction," and any psychiatric symptoms from mental health issues will have to be treated and resolved. Some people will be able to maintain their prescriptions while undergoing the required assessments, which aren't affordable for many.
Some transgender Missourians and health care providers sued to overthrow the rule, and a St. Louis judge pushed back its effective date from last Thursday to Monday at 5 p.m. as she weighs whether to block its enforcement as the lawsuit proceeds in court. A ruling is expected Monday.
Bailey has touted the rule as a way to shield residents, especially minors, from what he describes as experimental treatments, but puberty blockers and sex hormones have been prescribed for decades and are widely considered medically necessary for many trans people.
Some gender-affirming treatment providers in Missouri are already planning to cut back on care.
Vivent Health Interim President and CEO Brandon Hill said doctors are worried about meeting documentation requirements for new patients, so clinics in St. Louis and Kansas City will only provide gender-affirming health care to current patients. Vivent Health provides HIV-focused and LGBTQ+-friendly health care in St. Louis, Kansas City and other states.
"Do-it-yourself hormone replacement therapy" has become an increasingly common way for trans residents of restrictive states to avoid involuntarily stopping hormone treatment. Trans people like Stille have been discreetly circulating a comprehensive a guide and a digital master list of hormone suppliers, some more reliable than others, through social media.
This online marketplace, known as the gray market, is comprised of unregulated suppliers who sell legitimate medications, sometimes name-brand, outside the distribution channels authorized by the manufacturers. Some trans people in GOP-controlled states that have not yet enacted bans are buying from these suppliers to build an emergency stockpile.
But self-administering hormones without adequate supervision can be "extraordinarily dangerous," especially for those taking testosterone, said Dr. Robert Lash, chief medical officer at the Endocrine Society, which represents specialists who treat hormone conditions.
Although taking testosterone can help trans men develop some desired physical features, it also increases their risk of a blood clot or stroke. Lash said doctors need to closely monitor a patient's red blood cell count, lipids and liver function and adjust their dosage accordingly. Estrogen use can also increase risk of blood clots, he said.
"These are powerful medications with a lot of effects on a lot of body systems, not all of which are good," Lash said. "Taking these hormones on your own is just an invitation to running into problems. People need to be extraordinarily careful when using them and really shouldn't without medical supervision."
He cautioned against taking hormones from any unregulated pharmacy, veterinary source or overseas provider.
Even for those willing to assume the risks, not all trans people have the same level of access. Trans men like Levi Sobel, a 30-year-old from Springfield, are finding it much more difficult to source testosterone than other hormones.
Testosterone is classified in the U.S. as a Schedule III controlled substance, along with ketamine and some opioids, and is subjected to more regulations that the typical prescription drug.
Sobel said unregulated testosterone providers are "pretty much nonexistent" in the U.S., and it's unwise to buy from international sellers because of the higher likelihood of the hormone being seized by U.S. Customs and Border Protection.
"This makes it essentially impossible for me to stockpile in the same ways my transfeminine friends can," Sobel said. "The best I can do to stretch it is to make sure I'm using every last drop from every vial."
Stacy Cay, an autistic trans woman and comedian in Kansas City, has already saved up enough injectable estrogen to last about a year. The more she can stockpile, the more time she has to prepare her plan to relocate if the emergency rule isn't blocked in court, she said.
"This feels like the end of Kansas City being my home," Cay said. "It feels like it's being taken away."
Others, like Ellie Bridgman, a gas station attendant in Union, are employing a unique strategy to stockpile hormones. The 23-year-old, who said the attorney general's rule would cut off her treatment access because she's autistic and has depression, started injecting only a half dose of estrogen before her routine blood tests so her hormone levels would read low.
This led her doctor to increase her prescription.
Bridgman said she may consider decreasing her dosage to conserve medication or supplement her supply with an unregulated purchase. Stockpiling is her "No. 1 priority." Without hormone replacement therapy, she said, "the suicidal thoughts and ideation comes back stronger than ever. This is my lifeline."
___
Schoenbaum reported from Raleigh, North Carolina.
Copyright © 2023 The Washington Times, LLC.


[ad_2]

Source link