[ad_1]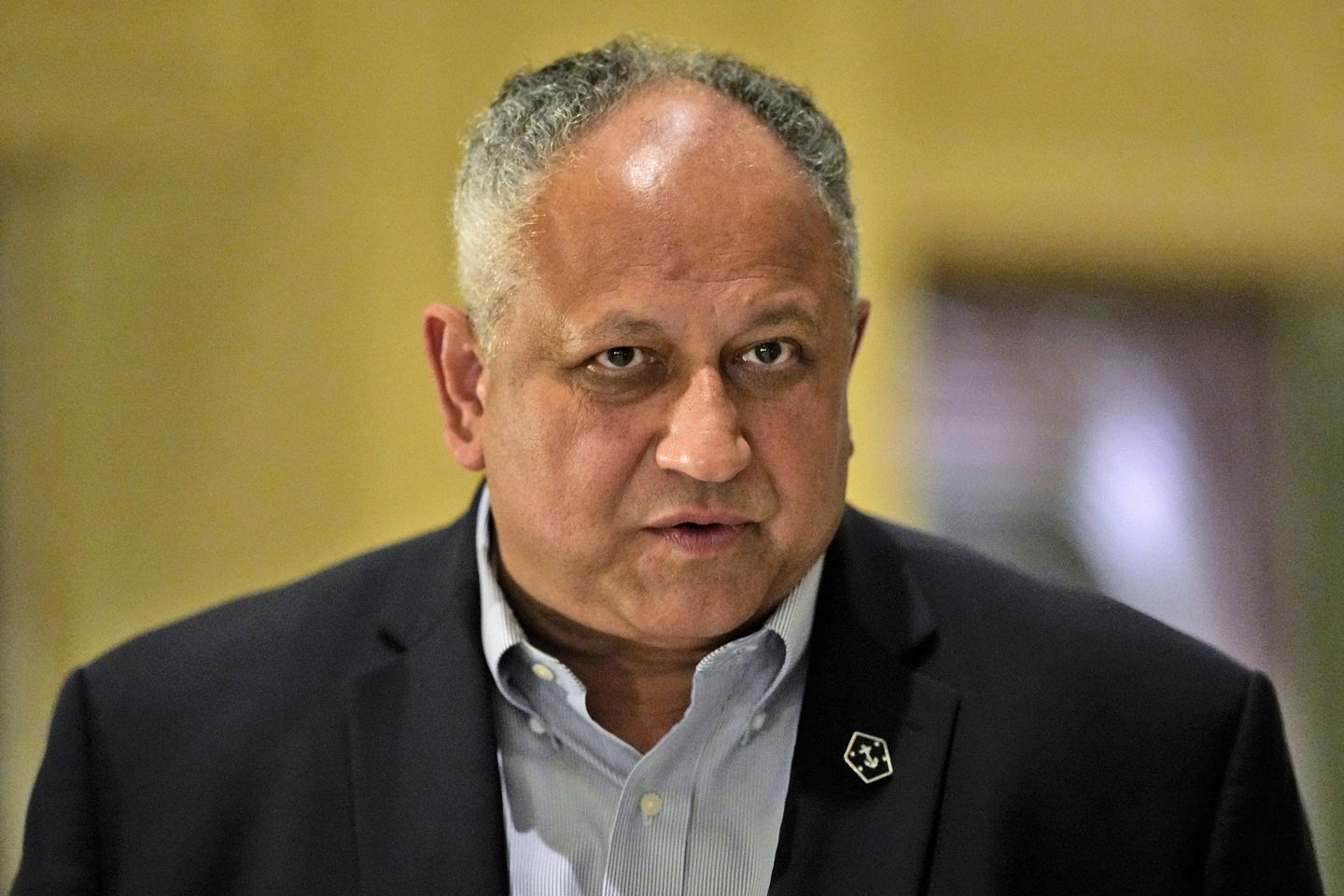 The Navy's decision to partner with a drag queen is proving almost as popular as Bud Light's Dylan Mulvaney compact.
Senate Republicans are demanding answers from Navy Secretary Carlos Del Toro on showcasing the drag queen as a "digital ambassador," calling the decision to partner with a social-media influencer on a banned app "not appropriate."
The letter released Thursday by 14 Senate Republicans asked for a status report and spending breakdown on the Navy's decision to tap Yeoman 2nd Class Joshua Kelley, a drag performer whose stage name is Harpy Daniels, as part of a recruitment initiative.
"We understand the need to reach broadly across the eligible population to improve recruiting outcomes, but we question promotion of social media influencers who post behaviors or activities many Americans deem inappropriate," said the letter writers, led by Sen. Ted Budd, North Carolina Republican.
The yeoman is shown in TikTok videos on his @harpydaniels account lip-syncing and dancing seductively while wearing outrageous female wigs, makeup and costumes.
The senators also scolded the Navy for promoting the use of TikTok, pointing out that President Biden signed a bill in December 2022 banning TikTok on government devices over concerns about Chinese influence.
"This begs the question whether the Navy endorses the personal posts of its influencers and 'ambassadors,'" the Republicans said. "If so, does the Navy endorse drag shows? Where does the Navy draw the line on promotion of the personal activities of its influencers? Would the Navy enlist burlesque dancers or exotic dancers to reach possible recruits?"
They concluded that "such activity is not appropriate for promotion in a professional workplace or the United States military."
Others criticizing the decision to highlight the sailor's drag persona include former military personnel, notably former Navy SEAL Robert J. O'Neill, best known as the man who shot and killed Osama bin Laden.
"Alright. The U.S. Navy is now using an enlisted sailor Drag Queen as a recruiter. I'm done," tweeted Mr. O'Neill. "China is going to destroy us. YOU GOT THIS NAVY. I can't believe I fought for this bull———t."
The Defense Department responded to the uproar Thursday by stressing that the Navy sailor was part of a "pilot outreach effort" called the Navy Digital Ambassador Program, not a formal and finalized recruiting initiative.
The program ran from October through March.
"It was a pilot outreach effort. It was not a recruiting effort," Pentagon spokeswoman Sabrina Singh told reporters. "The program has concluded. The Navy is evaluating the program and how it will exist in the future."
That distinction may not make a difference to critics alarmed by the woke trajectory of the military, which has been accused of prioritizing social-justice initiatives at the expense of readiness and lethality.
"It's surprising not that it's taking place, because in fact we've known for the past couple of years during the Biden administration that this has been taking place more and more," former Space Force Col. Matthew Lohmeier said on Fox News Channel's "Jesse Watters Primetime."
"What's surprising is that senior officials continue to push an agenda like this despite the fact that it's hurting our recruiting efforts and it's hurting our retention," he said.
The Navy announced in April that it expects to fall short of its recruitment goal this fiscal year by about 6,000 enlistees, DOD News reported.
Yeoman Kelley took on his "homophobic" critics in a Wednesday post on Instagram, saying "Haters only Hate when you are winning."
"LGBTQ+ People never could serve open because of DADT [Don't Ask Don't Tell]," the sailor said. "Now that we can, you can see who the Homophobic and Transphobic people are."
Yeoman Kelley has also put on drag shows during deployments. Photos from a 2018 NBC Out report show the sailor performing in women's clothing and make-up in 2017 on the USS Ronald Reagan.
Ms. Singh said the Defense Department is "incredibly proud of those who decide to serve – that's every young American who decides to serve and take the oath [and] put their lives on the line in defense of our country."
Sen. Tom Cotton, Arkansas Republican, predicted Thursday that using drag queens as digital ambassadors would backfire on the military.
"The bottom line is that the Navy, like most of our services under President Biden, faces a recruiting crisis," Mr. Cotton said on Fox News Channel. "But using a drag queen ambassador is not a solution of that crisis, it's an example of a major cause of the crisis."
He said young people join the military "to become warriors. They don't join to become social justice warriors."


[ad_2]

Source link