[ad_1]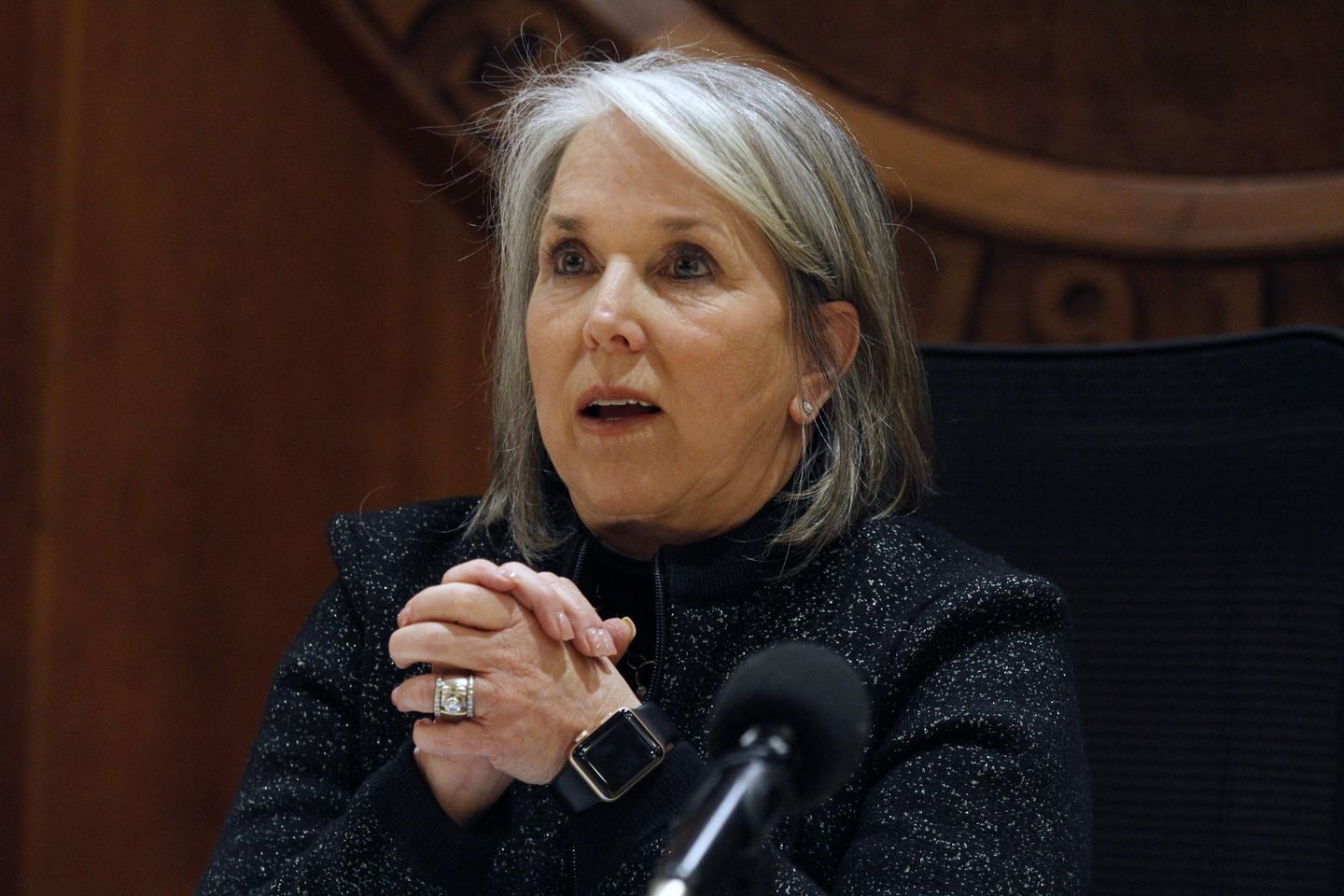 New Mexico is rapidly becoming an abortion destination under Democratic Gov. Michelle Lujan Grisham, but her efforts are meeting with stiff resistance from pro-life New Mexicans living along the Texas border.
The town of Eunice, New Mexico, population 2,997, filed a lawsuit against a newly signed bill that prevents localities from banning abortion within their limits after a spate of communities voted to declare themselves sanctuary cities for the unborn.
"It gives me great honor to say here in our nation's capital: Gov. Michelle Lujan Grisham and Attorney General Raul Torrez, we will see you in court," said Eunice Mayor Billy Hobbs at a Monday press conference in front of the U.S. Supreme Court.
The Eunice City Council voted unanimously at a Jan. 23 meeting to declare itself a "sanctuary city for the unborn," the same day that Mr. Torrez sued the cities of Hobbs and Clovis, as well as Lea and Roosevelt counties, for previously approving sanctuary ordinances.
"This is not Texas," Mr. Torrez said in a press release then. "Our State Constitution does not allow cities, counties or private citizens to restrict women's reproductive rights. Today's action should send a strong message that my Office will use every available tool to swiftly and decisively uphold individual liberties against unconstitutional overreach."
The Democrat-controlled legislature followed up last month by passing House Bill 7 to override the local abortion bans, but the complaint filed in state court argues that the measure is trumped by the Comstock Act, the 150-year-old federal law barring the mailing of abortion-inducing drugs and paraphernalia.
"We already have a de facto federal abortion ban here in America, and every single abortion industry in New Mexico is in violation of these federal abortion statutes," said Republican state Sen. David Gallegos at the Monday announcement.
He added: "Madam Governor, consider yourself Comstocked."
The Governor of New Mexico and Attorney General of New Mexico have been sued. The lawsuit can be read here. #therighttolife #thefightforlife #fromconceptiontillnaturaldeath #unbornlivesmatter #loveoneanother #COMSTOCKEDhttps://t.co/dCM4aSlGEM


— Mark Lee Dickson (@MarkLeeDickson) April 17, 2023
The Eunice lawsuit, which was filed Monday in New Mexico's 5th Judicial District Court for Lea County, names as defendants the governor and attorney general in their official capacities.
New Mexico localities began taking action last year as Whole Women's Health closed its Texas clinics and began scouting locations in southeastern New Mexico.
After Hobbs and Clovis approved the sanctuary ordinances, the company opted to set up shop in left-leaning Albuquerque, about 200 miles from the Texas border. Hobbs, Clovis and Eunice all lie 10 miles or less from the edge of the Lone Star State.
Lori Bova, Right to Life of Lea County spokesperson, accused Mr. Torrez of taking "punitive action" with the lawsuits.
"Our state legislature also passed a bill that was signed into law by our governor trying to render the local ordinances moot," Ms.  Bova said. "Our state leaders seem to wield unending power, but I will tell you one thing today: They do not have the power to ignore federal law."
Since 2019, 65 cities and two counties have passed "sanctuary city for the unborn" measures, but unlike those in other states, the New Mexico ordinances specifically mention the Comstock Act, said Mark Lee Dickson, director of Right to Life of East Texas.
"We realized early on we couldn't pass an ordinance in New Mexico like the ones which were passed in Texas," said Mr. Dickson, founder of the sanctuary movement. "We couldn't pass an explicit abortion ban in New Mexico because the New Mexico legislature was likely going to prohibit cities from passing those kinds of abortion bans."
Therefore, he adapted.
"So what did we do? We devised a new way to pass sanctuary city for the unborn ordinances, and that was by relying on federal statutes which were passed by Congress in 1873," Mr. Dickson said.
The Comstock Act was nullified by the Supreme Court's 1973 ruling in Roe v. Wade, which then itself was undone by the high court's June 24 ruling in Dobbs v. Jackson Women's Health Organization.
The Justice Department has largely dismissed the Comstock Act, arguing in a December legal opinion that the two drugs used in the abortion protocol have other purposes, and that the sender must know that they will be used illegally for the law to apply.
While the Biden administration may not take the Comstock Act seriously, the same cannot be said of the federal judiciary.
U.S. District Judge Matthew Kacsmaryk said in his April 7 preliminary injunction suspending the Food and Drug Administration's approval of mifepristone that the "plain text of the Comstock Act controls."
The 5th U.S. Circuit Court of Appeals backed him up days later.
"We hesitate to find 'clear and manifest' intention to repeal a 150-year-old statute that Congress has otherwise repeatedly declined to alter in the far reaches of a single section of the cavernous FDA [Amendments Act]," said the appeals court in its April 12 ruling.
New Mexico, though, is covered by the 10th  U.S. Circuit Court of Appeals.
Ms. Lujan Grisham has rolled out the welcome mat for clinics post-Roe, pledging $10 million for a new abortion facility in Dona Ana County and signing legislation to protect providers from out-of-state prosecutions.
The Reproductive and Gender-Affirming Health Care Act, which she signed March 16, "prohibits public bodies, including local municipalities, from denying, restricting, or discriminating against an individual's right to use or refuse reproductive health care or health care related to gender."
New Mexico has no gestational limits on abortion, meaning the procedure is legal throughout pregnancy, while Texas bans most abortions.
"New Mexicans in every corner of our state deserve protections for their bodily autonomy and right to health care," said Ms. Lujan Grisham in her signing statement. "I'm grateful for the hard work of the Legislature and community partners in getting this critical legislation across the finish line."
• Alex Swoyer contributed to this report.


[ad_2]

Source link