[ad_1]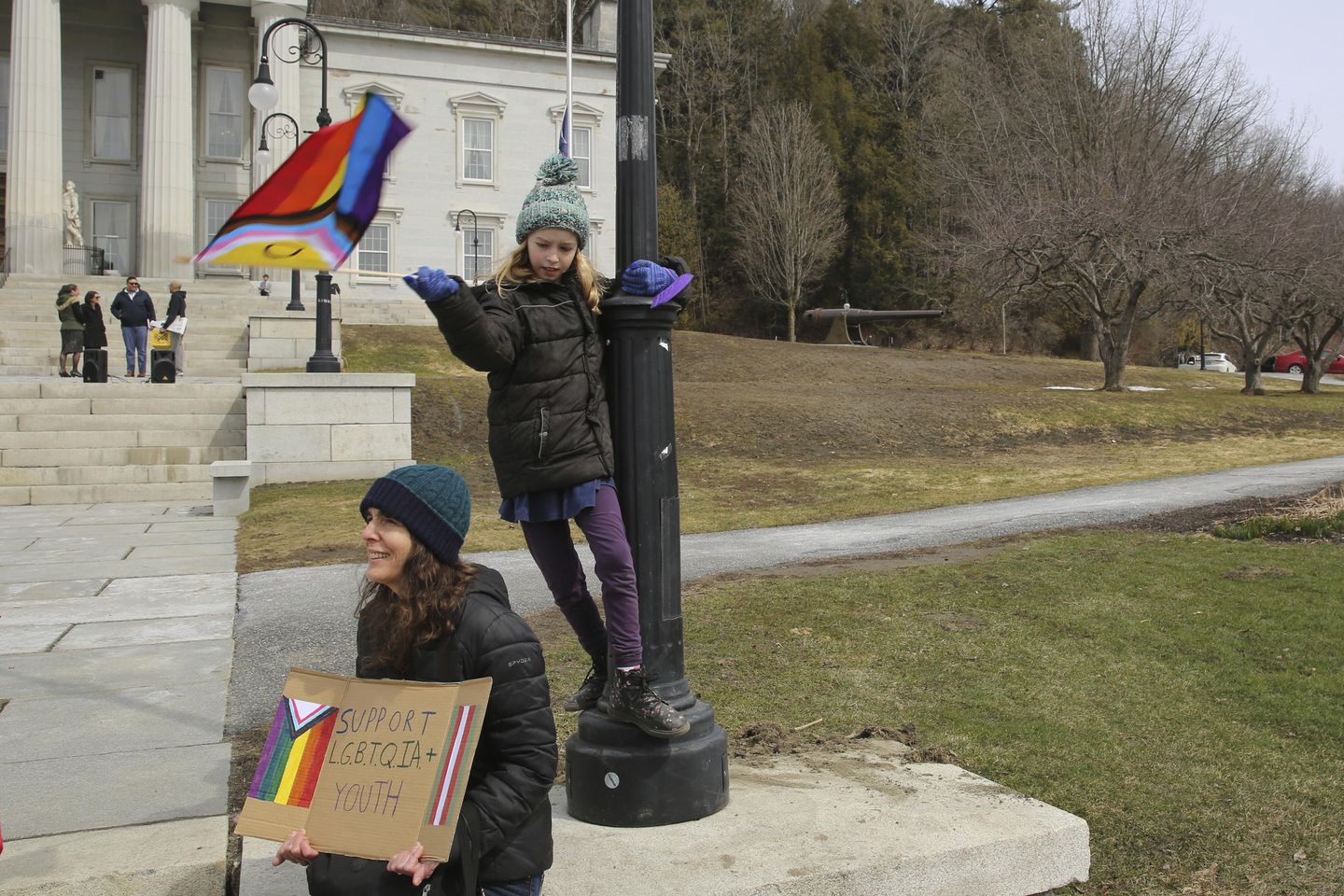 MONTPELIER, Vt. (AP) — Hundreds of young people gathered on the lawn of the Vermont Statehouse on Friday as part of a nationwide series of events to build support for transgender rights amid what they denounced as an increasingly hostile climate.
Chanting, "We're here, we're queer, get used to it!" many draped themselves in pride flags or carried posters with messages like "yay gay" or "protect trans kids."
Young people, some as young as middle-school, stood in front of the crowd and told of their struggles with their sexuality at a time when many people across the country refuse to acknowledge them.
Charlie Draugh, 17, a high school senior from Chisago, Minnesota, who attends a boarding school in Vermont, said he was angry that groups are trying to control his life and turn him into a political pawn that he is not.
"My life is not your debate," Draugh said. "It is not a political issue. I am not hurting anyone and I am certainly not hurting myself."
The rallies – dubbed "Transgender Day of Visibility" – come as Republican lawmakers across the U.S. have pursued hundreds of proposals this year to push back on LGBTQ+ rights, particularly rights for transgender residents, including banning transgender girls from girls' sports, keeping transgender people from using restrooms in line with their gender identities and requiring schools to deadname trans students – requiring they be identified by names they were given at birth.
At least 11 states have now enacted laws restricting or banning gender-affirming care for minors: Alabama, Arkansas, Arizona, Georgia, Iowa, Kentucky, Mississippi, Tennessee, Utah, South Dakota and West Virginia. Federal judges have blocked enforcement of laws in Alabama and Arkansas, and nearly two dozen states are considering bills this year to restrict or ban care.
In North Dakota, the state Senate voted Thursday to override a veto by Republican Gov. Doug Burgum of a bill that would generally prohibit public school teachers and staff from referring to transgender students by pronouns other than those reflecting the gender assigned to them at birth. It's unclear if the North Dakota House will also vote to override the veto.
On Friday, President Joe Biden issued a statement supporting Transgender Day of Visibility. The president said transgender Americans deserve to be safe and supported in every community. He denounced what he called hundreds of hateful and extreme state laws that target transgender kids and their families.
"Let me be clear: These attacks are un-American and must end," Biden's statement said. "The bullying, discrimination, and political attacks that trans kids face have exacerbated our national mental health crisis."
Vermont was the first state in the country to pass a law allowing civil unions for same-sex couples and adopted one of the first gay marriage laws. It has has been known for being generally welcoming to the LGBTQ+ community. A number of police from the Vermont capitol were watching the Montpelier rally, but there were no problems and the rally gradually began to disperse about an hour after it began.
Copyright © 2023 The Washington Times, LLC.


[ad_2]

Source link