[ad_1]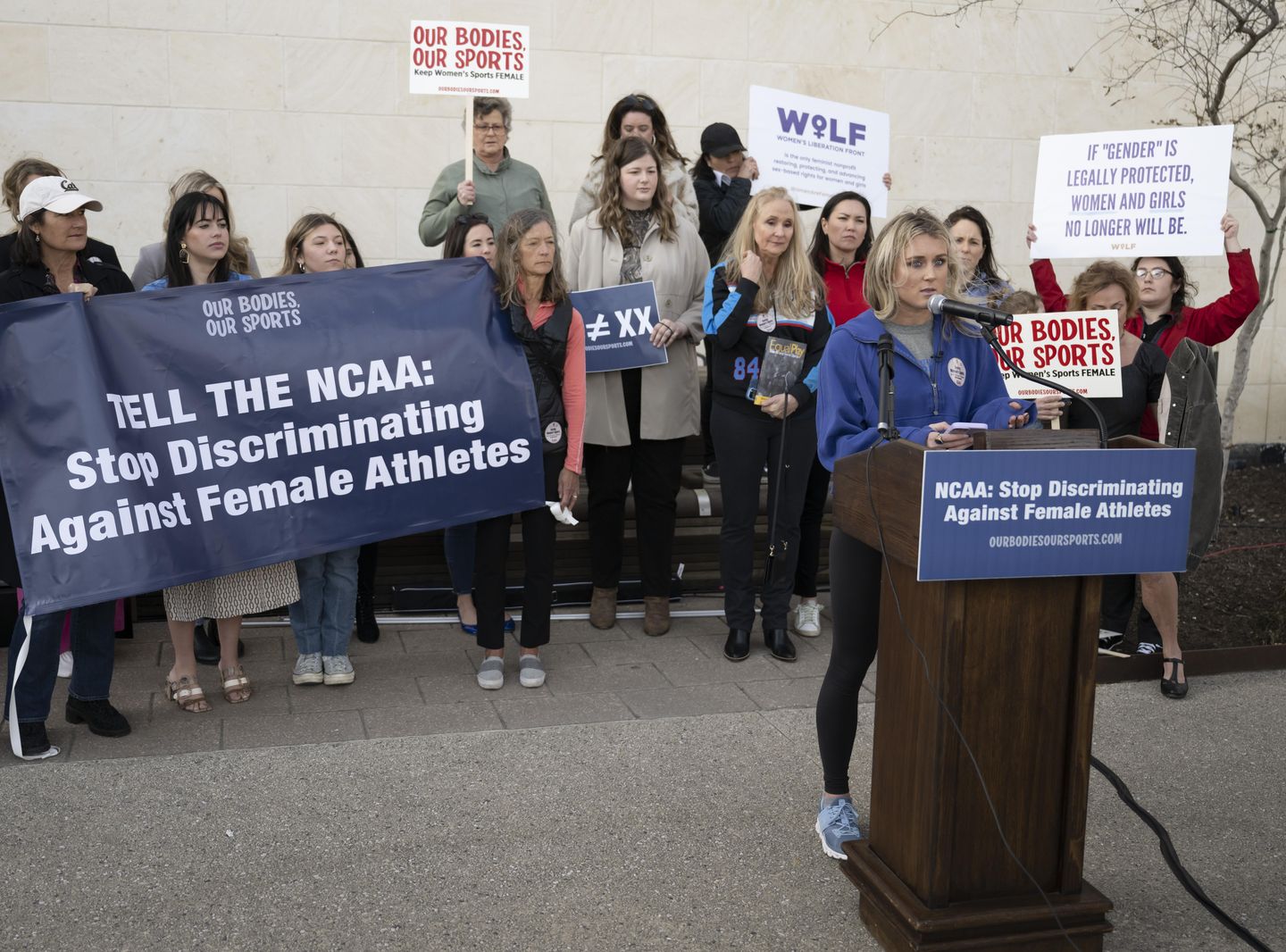 San Francisco State University called Thursday's protests of former collegiate swimmer Riley Gaines on its campus "peaceful" — one day after the swimmer said that she was physically assaulted by a man in women's clothing at the event.
Jamillah Moore, SFSU's vice president for Student Affairs & Enrollment Management, emailed a statement Saturday to the university community that didn't address any of Ms. Gaines' accusations of violence.
The former swimmer was on campus to speak about why women's sports should be restricted to biological women.
"Thank you to our students who participated peacefully in Thursday evening's event. It took tremendous bravery to stand in a challenging space. I am proud of the moments where we listened and asked insightful questions," Ms. Moore wrote in the statement.
"I am also proud of the moments when our students demonstrated the value of free speech and the right to protest peacefully. These issues do not go away, and these values are very much at our core," she said.
Ms. Gaines shot back at SFSU's statement late Saturday night over Twitter.
---
SEE ALSO: Riley Gaines says she was hit by activist, ambushed by pro-trans mob at San Francisco State
---
"I'm sorry did this just say PEACEFUL," she asked.
"I was assaulted. I was extorted and held for [ransom]. The protestors demanded I pay them if I wanted to make it home safely. I missed my flight home because I was barricaded in a classroom," the former swimmer for the University of Kentucky wrote.
"We must have different definitions of peaceful," she said dryly.
The prisoners are running the asylum at SFSU…I was ambushed and physically hit twice by a man. This is proof that women need sex-protected spaces.

Still only further assures me I'm doing something right. When they want you silent, speak louder.  pic.twitter.com/uJW3x9RERf


— Riley Gaines (@Riley_Gaines_) April 7, 2023
Ms. Gaines required a police escort to leave campus after the event, which is when she said she was "ambushed and physically hit twice by a man," according to her own statement Friday.
The swimmer also said she had to barricade herself in a room for three hours after her speech due to the mob that was chasing her.
Videos of the scene showed protesters shouting "trans women are women" and "trans rights are human rights."
In another video, a protester can be heard saying "Tell her to pay us. Tell her to pay us and she can go. Ten bucks each."
SFSU said in a statement that the University Police Department didn't detain any protesters. The incident is still being investigated.
Ms. Gaines first began speaking about this topic when she raced against Lia Thomas, who was on the University of Pennsylvania's men swimming team before transitioning and competing in the women's division.
They tied for fifth in the 200 freestyle at the 2022 NCAA Division I women's swimming championships.


[ad_2]

Source link